The Luxury Network Singapore Interview with Peter Lyngdorf
18th January 2023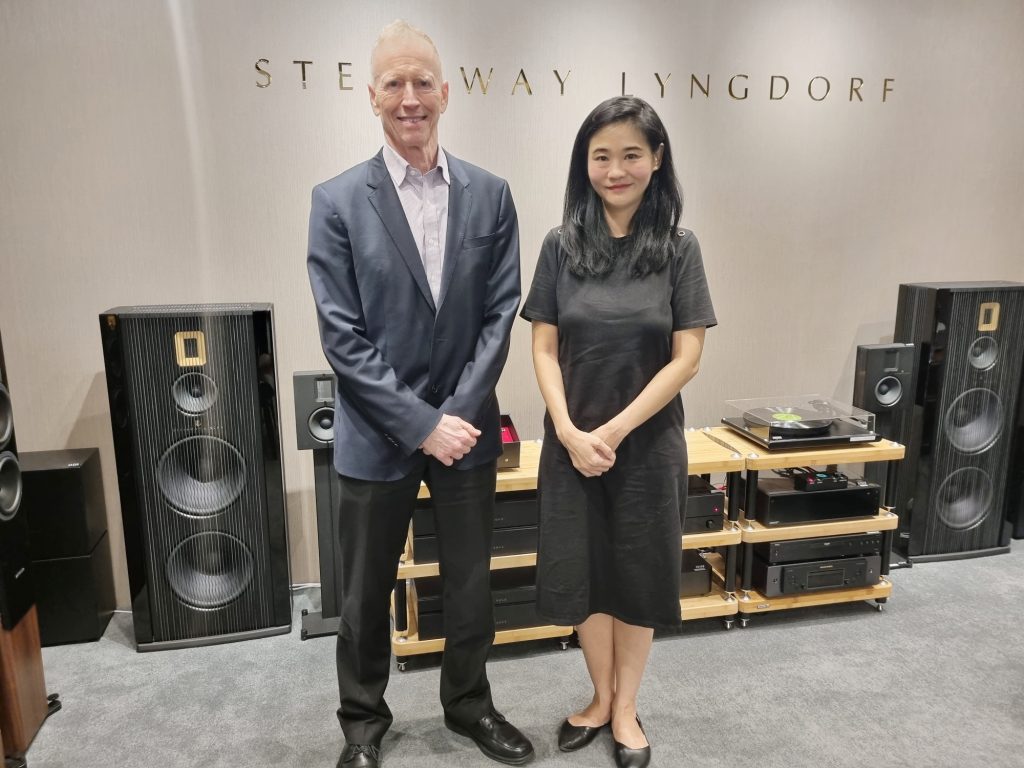 The boy who loved music and turned his passions into a business empire
I recently had the opportunity to catch up with Mr. Peter Lyngdorf, founder of Steinway Lyngdorf, during his visit to Singapore in January 2023.
Steinway Lyngdorf is dedicated to making the world's best sound systems. With the opening of a new showroom at Millenia Walk #01-35 in Singapore by their distribution partner, AV One, AV One dedicated a new, stylish demo room for Steinway Lyngdorf, featuring a Dolby Atmos multichannel system with Steinway & Sons Model S-15 and the new Model A. AV One is selected as their distribution partner as they have similar values, especially in their love for music and how they treat customers. Everyone who walks through the door of AV One is treated with the same respect and level of (and quality) in the service they provide for their customers. Apart from that, Mr. Lyngdorf is of the opinion that AV One is highly professional and has an amazingly strong sales and marketing team.
Singapore is a natural market for Steinway Lyngdorf due to the enormous amount of wealth – according to a report by HSBC Holdings Plc, more than 13 percent of adults in Singapore will be worth more than US$1 million (S$1.38 million) by 2030 – potential customers will need a considerable amount of wealth to buy a Steinway Lyngdorf's system and because of the fact that Singapore is a condense market – Mr. Lyngdorf reckons that it is fine having just one "shop" for Steinway Lyngdorf.
As a person who overcame social norms, Mr. Lyngdorf welcomes competition in a dense market like Singapore and "prefers" his products to be compared to other Audio Manufacturers. He believes that competitions drive constant innovations and it keeps his team of engineers busy and engaged. Mr. Lyngdorf, in fact, is passionate about making even better and higher quality products than the previous version his company has produced and shared with me a piece of insider information that other than using the latest sound measurement technology, he has a dedicated area in his factory where he kept all his company's past creations in a "sealed enclosure" which his engineers will refer to, to compare with any new creations to ensure that any new creations' sound quality will surpass the previous ones which were the best they had ever made previously. Although to this day, Mr. Lyngdorf will still personally listen to his top-range products to ensure their quality.
In his quest to follow his passion, Mr. Lyngdorf was almost expelled from his high school due to his low grades.
Mr. Lyngdorf was hooked on music and sound at the young age of 10 in 1963 when he first heard the Beatles on the radio. At that time, there was only 1 radio station in Demark and it was only from 4 pm to 5 pm when the station will be playing pop music. I could resonate with him as the Beatles were one of my favorite bands (other than ABBA) growing up as my mum (same generation as Mr. Lyngdorf) will keep playing their music at home ever so often that I could recite some lyrics.
Mr. Lyngdorf was wow-ed and so intrigued by the Beatles' music that, at that time, while he worked as a part-time errand boy, he would save up to buy himself a tape recorder to record the Beatles so that he could listen to their music whenever he likes and not be restricted by the radio station's pop music play schedule. His tape recorder had built-in small speakers but he wasn't happy with them so he started building bigger and better speakers as he would like to listen to the Beatles on better sound quality and for as loud as he wished. As he got better each time, he started building speakers for his friends during high school.
But Mr. Lyngdorf's dad wasn't a fan of the Beatles or loud music. So at the age of 15, Mr. Lyngdorf decided to move out to live by himself so he could play and listen to music as loud as he wished. He left his family and rented an apartment, although he still sees them once a week and was in good relations with them.
After graduating from high school, Mr. Lyngdorf worked 3 weeks in Marketing and 3 weeks in Shipping before starting his own company making and selling Audio systems. To Mr. Lyngdorf, that was "6 weeks of proper education" – that is, in shipping, marketing, and advertising – well enough for him to run his own business.
Without any university degree as opposed to his competitors, Mr. Lyngdorf attributes what is key to his success is by doing things differently and humility. Mr. Lyngdorf's personal mantra; "Whenever you meet arrogance you should smell opportunity.". He does not rest on his laurels but constantly challenges his team to keep innovating and "jump the fence where it is higher". Mr. Lyngdorf is keenly interested in improving the Audio technology and not too worried about next quarter's results; it's about moving technology to a different level and making better and not necessarily cheaper products.
By the age of 27, Mr. Lyngdorf has quite a considerable business in the Scandinavian Hi-Fi Industry.
In 2006, Mr. Lyngdorf sold a Lyngdorf system to a gentleman in Sweden who was so impressed that he called Mr. Lyngdorf to share that this is the first time he heard the sound of a piano from a Hi-Fi system that sounded exactly like a piano and that the sound's quality was so crystal clear that he could differentiate the different brands of pianos playing. That gentleman happened to know all the Top Management and Owners of Steinway & Sons and thought he should introduce them to Mr. Lyngdorf as there could be opportunities to collaborate in some way or another. That was the start of how Steinway Lyngdorf was born.
This year, Mr. Lyngdorf will celebrate the 15th Year Anniversary of Steinway Lyngdorf and the iconic Model D loudspeaker through the launch of a special Anniversary Edition. When asked about more details on the new edition, Mr. Lyngdorf was tight-lipped about it however he shared that what he is able to reveal is that their flagship, iconic design will be maintained.
Mr. Lyngdorf attributed his success to his strong company culture too, in that, it is all about the customer, quality, and reliability. As he put it, every employee is "infused" with both core values; Customer Focus and Honesty – the driving force for Mr. Lyngdorf's empire. Mr. Lyngdorf recalled during his younger days, he had encountered many dealers who were not honest with the customers, so he told himself if he were to start his own business, it will have to be a good company for the customers. All employees are expected to do the right thing when dealing with customers. This also means that the quality of every single product will have to be perfect. Product quality is not statistics in the company – it has to be 100% perfect or a total failure; every single product is for a person and he or she has to be a satisfied and happy customer. To Mr. Lyngdorf, the production team is the most important person in the company while he is the least important as without a quality product, the sales team would not have been able to sell their products. Mr. Lyngdorf does not like to feel important at all. After our catch-up, he will be leaving Singapore for Bangkok, which he is looking forward to this trip; that is where he could truly be himself, wearing his shorts, t-shirt, and slippers, and go about his day. Mr. Lyngdorf does not like to stay in luxury hotels, even though he owns an apartment in the Four Seasons Residences Bangkok, he very much prefers to stay in a local budget hotel to immerse himself in the local culture where he says, in his words, "The Thai people are so humble and polite. When they serve you, they do so with all their heart without any agenda." This – Pretty much, a similar kind of culture, Mr. Lyngdorf had instilled at Steinway Lyngdorf; "everything is for the customer".
Mr. Lyngdorf is thankful that he does not need to micro-manage his employees; they know that their products are good and that they are working with a company that has integrity as everyone is (expected to be) honest to the customers so they are proud of working for the company. It all started from the love for music and knowing that there's an opportunity to improve things; with good people who are enthusiastic about doing the right thing, there's no need to micro-manage.
Music is important because it helps evokes emotional responses and direct moods. It helps to immerse an audience in a world that the composer had wanted them to experience. If the sound quality is top-notch, it gives a fantastic amount of enjoyment that causes goosebumps. But designing a loudspeaker to achieve high-level quality sound is so much more complicated compared to designing a TV as there are only just 2 to 3 parameters that can be changed. For example, different acoustics within the space where the speaker is placed require different parameters to be changed. The resolution that you hear with your ears is many times more than that you see with your eyes. The amount of innovation opportunities, one can do for sound is tremendous. Innovate and improve something, and you get an even more pleasurable experience which is also what keeps Mr. Lyngdorf excited.
He recalled fondly an email from a customer living in Sentosa Cove (one of the richest residential areas in Singapore) who had bought two systems; one of which was the biggest and most expensive Steinway Lyngdorf's system – that customer wrote that he bought it not because it made him look good in front of his friends due to the prestige of owning one but the real reason for writing to Mr. Lyngdorf is to thank him for reminding him that he loves music.
 
One tip that Mr. Lyngdorf has for all the music lovers out there; buy good quality noise-canceling headphones and use them often; you never know when you can be exposed to loud sound that could damage your hearing. Mr. Lyngdorf uses it very often, for example when he is driving (even when he drives a "quiet" luxury car), on the plane, and especially if he is going to a concert. Mr. Lyngdorf uses noise-canceling earplugs frequently for protection. With that, your hearing is fresh and even if it is quiet, he guarantees that you will enjoy the quiet in a different way.
Irene Ho, CEO, The Luxury Network Singapore.